Family planners | Free printables
Issy has ballet school on Saturday morning, Charles' gymnastics class has been moved to Monday evening, Dad's going to be away in Australia - leaving on Tuesday morning and getting back early Thursday, mustn't forget I've got bookclub on Wednesday, George has a play date on Thursday after school…but who's it with…and is it here or at their house?
Life can certainly get a little bit hectic at times - keeping track of your own life can be hard enough, but when you add in the rest of your family's activities it just gets harder and harder…
Which is where a Paper-Roses family planner can come in really handy. Designed for a family of five, but easily adaptable to families of all shapes and sizes, use it to coordinate your whole tribe's busy lives in one place.
Available in three different designs and two different sizes, you can print your Paper-Roses family planner at home (or at your local print shop) before laminating to make sure you can use it again, week after week.
Stick it on the fridge, the wall or the side of a cupboard…and get planning. Just remember to use an erasable pen 😄.
Simply decide which design and size you'd like and click the link to download your print file.
A few tips…
Not a family of five? Not a problem. Because of the flexible layout you can easily adapt your Paper-Roses family planner to fit you and your tribe. Just two of you? Use the extra columns to note down your exercise plans, meal plans and date nights. More than five of you? It's simple - just print out and laminate two (or more) copies.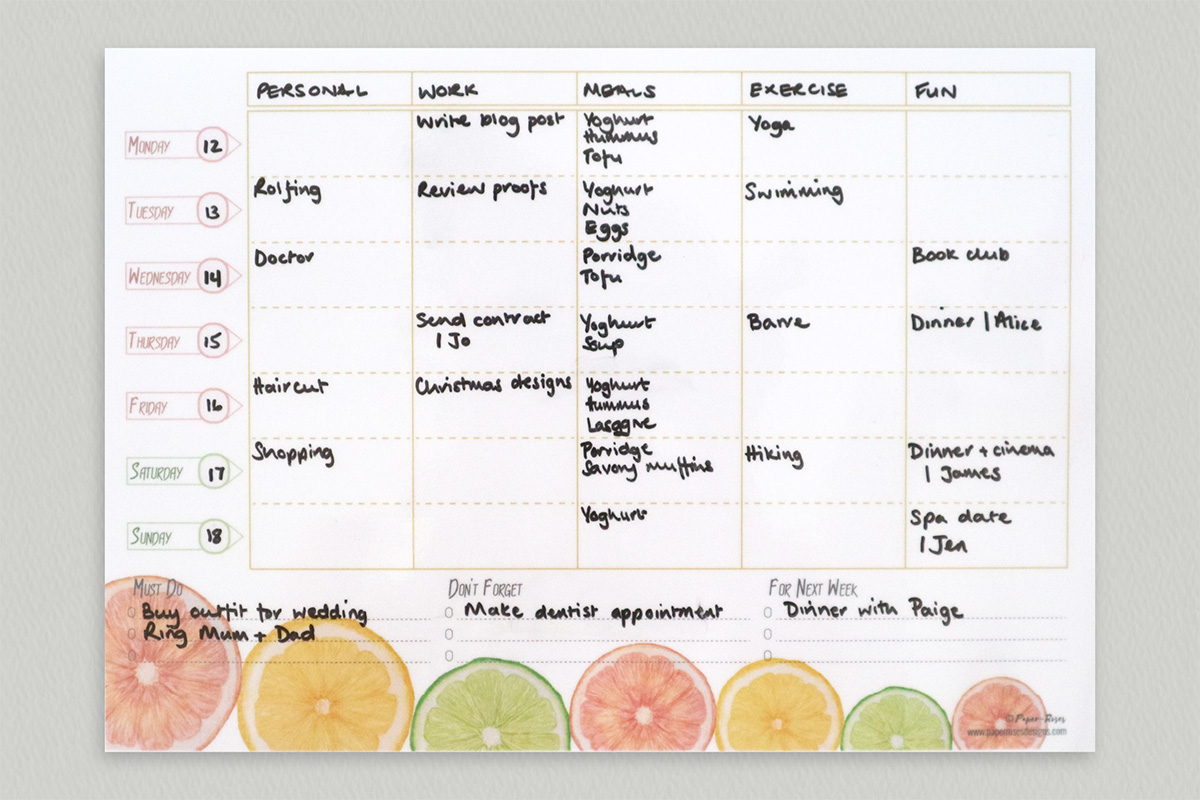 Like the vertical layout, but only have space for the A4 version? There's an easy solution. Download and print the A3 version, but set your page size to A4 and scale to fit.
Trying to print, but your printer's adding a white border around the design. Check to see if you can set your printer to do "borderless" printing. If you can, the border should magically disappear.
I hope you love the results of Paper-Roses' new family planners. I'd love to hear what you think - comment below, or tag me at @paperrosesdesigns on Instagram.